Obsessed: Madonna & David Letterman
Boy Culture has a great piece of popculture history by way of NY Magazine: A handwritten note from Madonna to David Letterman a few weeks after her infamous appearance where she said "fuck" like 20something times and basically acted like an ass for half an hour (love it).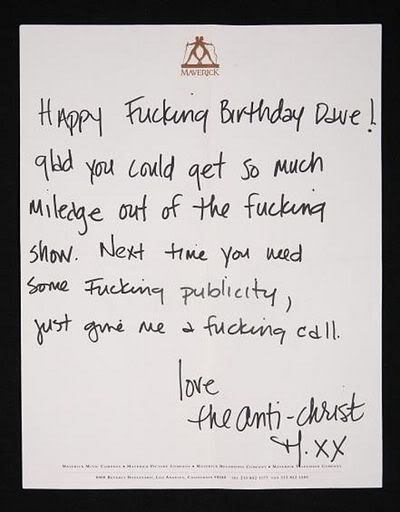 And it got me thinking about how much I generally like Madonna The Person, not just the pop star. And how much I like her on David Letterman. So, here's her Madgesty in most of her Letterman Sit-Downs.
The complete 1994 interview.
I personally think she was HIGH as all hell. Also, Dave annoys me, but no one can say he's not quick on his feet. AlsoAlso, Madonna is so teensy! And cute. Gothic Madonna was kind of fabulous.
The 2000 interview, in 3 parts.
1994 feels like so far away, but 2000, when Music came out feels like yesterday. I can't believe this was 11 years ago. But then I look at her godawful outfit and it is OBVIOUSLY 2000. The first two parts are the interview, but the third part is golden to me. Madonna will never be an amazing vocalist and she knows this. And it doesn't even matter. Find me a bonafide pop star who will go from Couch to Stage and sing acapella, playing a guitar. Bitch is ballsy.
The 2003 interview, in 3 parts.
I can't find the middle part, so it's just 1 and 3. It's not quite as exciting since she's all mature and talking about her children's books. But she's still way cute.
The 2007 interview, in 2 parts.
Not to knock my sister or anything, but she aged a LOT between 03 and 07. I think this is when she started getting superbuff and her face lost a lot of fat. She's there to promote some movie I actually never even heard of. The first part is the cutest where she talks about pop stars being snapped by paparazzi with no panties on. I forgot about that…
The 2009 interview, in 2 parts.
And she looks way better here. Gained a little weight, got a lil minor plastic surgery, and she is back on it! And she confirms my suspicions about that 1994 joint.
Madonna NEVER has to do any interviews, let alone a late-night talk show, ever. She is so much bigger than interviews. But I like that she's just a real person who happens to be the biggest pop star on the planet. And she'll sit down with Dave and trade jabs for a little while and then go back to whatever she does when she's not being MADONNA.
I just have problems wrapping my head around what her life is like. She is just not of this world to me. And I'm not a crazy obsessed Madonna fan. I have all of her albums and we have the same birthday and I admire her more than any other person in pop music, but I'm not obsessed to tears and ready to fight bitches over her the way some people get about their LadyStars (Britney, Beyonce, Gaga, Madonna…and they're always crazy gay folks).
It's just the sheer size of her balls I can't really get my head around when you think about how long and impossibly varied her career has been.
Go Madonna.


6:00 pm • 20 February 2011 • &nbsp Let's talk about what you think.
| madonna| david letterman| obsessed| pop| music| tv| celebrities|