Album Review: Bayside - Killing Time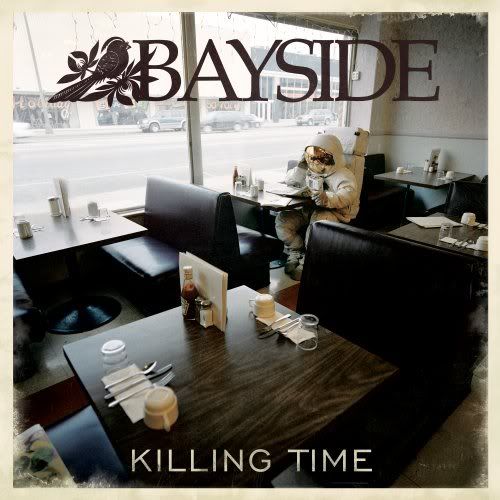 Bayside (and other post-punk, post-emo, post-hardcore pop rock bands like them) always make me feel like one of two things:
A "bro-dude" in some tricked out Honda Civic or Ford Mustang, wearing an Ed Hardy t-shirt, with copious amounts of gel in my hair and some form of tribal tattoo on my bicep, on my way to drink Coronas in a bar with other bros with whom I'll try to pick up really tanned girls wearing frosty makeup.
A 14 year old girl with a lot of black eye-liner and some kind of homemade ironic haircut, who really likes boys with lip piercings, and collects Hello Kitty memorabilia…in a totally subversive kind of way.
Pfft.  Whatever.  I don't care.  This album is shockingly good.
I don't expect a masterpiece out of Bayside.  To me, they're just Show Openers—the kind of band you see when you go to a show to see somebody else.  They sound good, but you're not about to go buy their merch later.  They've never put out a totally consistent album that would make me switch from casual listener to actual fan.  Killing Time is that album though.
It opens with a flurry of percussion on "Already Gone" complete with surging guitars and straight-forward vocal harmony and the pace continues through first single "Sick, Sick, Sick."  They scale back a little for the next few tracks, but retain their hooky sensibilities.  The energy slowly builds as the album continues, hitting it's peak with "The Wrong Way" which is the high point of the whole event.  
Bayside does a 180 afterwards with the completely stripped down, piano-driven "On Life, On Love," and it works a lot better than it probably should.  The title track closes out the album on a positive note with maybe the best chorus on the album.
Bayside isn't going to be gathering any awards or attracting hoards of new followers, but they've put out the best album of their career.  Killing Time is all fluff and no real substance, but it's packed full of hooks, harmony and energy, and who can be mad at that?
Score: 4 (out of 5)


9:39 pm • 7 March 2011 • &nbsp Let's talk about what you think.
| bayside| rock| indie| indie rock| album reviews| music|