China has a brand new fad to make you scratch your head and say "why?"
Keychains with a tiny living turtle inside.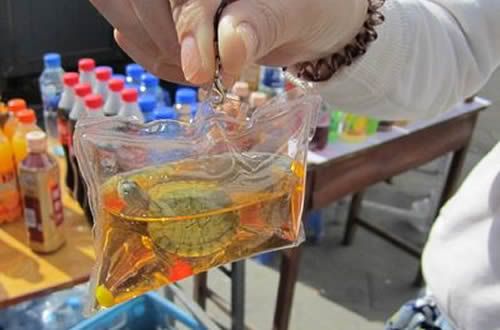 SO SAD!
Street vendors are hawking these keychains on the corner and at entrances to the subway and such.  It's a little bag about 7 centimeters with colored water and a tiny turtle or two little fish inside.  And people buy them!  The vendors have some crock about how the colored water is enriched with nutrients for the turtle to live off of (which is total bs) but even still, how much oxygen is in a 7 cm bag?  They usually die in a couple of days after which people microwave the bag for awhile and then eat the turtle or fish as a little snack.
I'm actually not grossed out by that last part.  I've eaten turtle before (we call it cooter meat down south) and I love fish so I'm down for a little snack.  But to torture the animal for awhile and then eat it is just not a good look.
And as I've sat here typing that and going through that whole thought process, I just realized that's basically what our meat industry is.  Have you seen how they keep chickens?  They're so pumped up on hormones they can't even walk.  Just chicken sitting around in their own poop, stuck in one tiny spot, until they're grouped up to be killed for food.
Dammit!  I hate having revelations.  


2:33 pm • 5 April 2011 • &nbsp Let's talk about what you think.
| news| china| food|