LiLo just can't stay off that sauce, man!
I'ma just go ahead and say it: I'm officially over Lindsay Lohan.  I tried SO HARD to be Team LiLo but if she's not putting in any effort, why should I?  Some probation reports just came out that say Lindsay tested positive for booze a month after she got released from rehab earlier this year.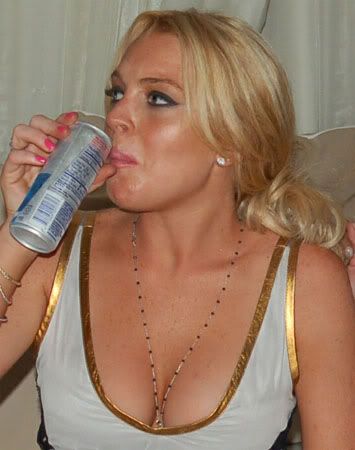 (I wonder if she really believes we think that's only Red Bull in that can…)
We all like a little sauce every now and then, but if you know you're gonna be tested for shit, and you still can't stay away??? Ma'am, that means you have a problem!  Yes, your problem is way bigger than mine.  I'm allowed to boozily pass out on a bench on the subway platform at 4:30AM on Tuesday morning…because I'm not being tested for anything.  I caused no problems, broke no laws, and kept my life together.  Lindsay, you didn't so you are not allowed my same types of Drunk Freedoms.
Get it together.
Sidenote: the article I got this probation scoop from reports that Lindsay is indeed cast in the new Gotti movie as Victoria.  Just last week I read a different article that says Travolta's wife is playing Victoria (and Travolta's daughter is gonna play Gotti's daughter Angel).  Regardless of the fact that the whole Travolta family is playing the whole Gotti family and that sounds boring as blazes, I need a clear report on this.
Is Lindsay in or out?


11:00 pm • 11 May 2011 • &nbsp Let's talk about what you think.
| lindsay lohan| gotti| john travolta| booze| celebrities| gossip| crime|