Rambling Wednesdays: Natural Hair Nazis
If you're not black, you might not "get" this post at all.  That's just my disclaimer to keep it movin to the next funny celebrity post or half-naked man further down my page.
But for the rest of my colored folks (or nosey white ones)….
I am over Natural Hair Nazis.  That doesn't mean I'm against natural hair.  Contrary to popular belief, my hair is indeed natural.  There are no chemicals in my hair; I'm just a magician with a flat-iron when I wanna be.  But when I get out of the shower, my head is indeed a big floppy mass of curls and such.
But that is not enough for the Natural Hair Nazis.  These are the folks that take being Natural from just a personal choice for whatever aesthetic reasons or lifestyle reasons to being a political statement, a qualifier of blackness, a measure of cultural self-worth.  The fact that I do flat iron my hair about 60-70% of the time means that I am a self-hating black person trying to live up to the White Man's Standard of Beauty.
Why it gotta be ALL OF THAT????  Why can't I just like to wear my hair straight?  Are we calling the Dominican chicks in Washington Heights self-loathing because they dye their naturally dark hair yellow?  
(And I do mean yellow, not blonde.  I see so much yellow—Rose Art Crayon Yellow—hair on the 1 and A trains.)  
Is that blonde a manifestation of self-hatred, their way of trying to blend into White America?  Or is it that some people just wanna dye their hair?  Because I have yet to find anyone on the planet who actually has those shades of Red & Burgundy naturally growing out of their scalp that I see on some of these Latinas.  If they're trying to be like somebody, please do show me that person.
It's becoming such a class issue too.  You're more likely to see natural hair on a black woman at a certain level of education, income, or profession.  A black professor living in Fort Greene is much more likely to wear her hair sans chemicals than a fast-food worker in Bed-Stuy.  Just another way to separate the haves from the have-nots.  Before, if your hair was Bouncin and Behavin, then you had the money to pay for the best perm and the best weaves and you were "better" than ol' girl with the slicked-back ponytail.  Not so anymore.  That $200 weave has become a testament to your wrongly-placed priorities and station in life.  
People should just stay out of everyone else's "kitchen" and let individuals make whatever hair decisions suit them best.  Besides, a lot of Natural Nazis need to take some Hair Care classes anyway.  The impetus behind this post was a natural chick I saw on the train Sunday.  She may or may not have been a Nazi, but she did strike me as a tad on the bougie side with her fancy pumps and shopping bags.  
Whether you're natural or permed or weaved or braided…whatever…all I ask is that you look your best.  The same way that I'm tired of horrible weaves with an OBVIOUS divider between the Weave Hair and your Real Hair?  The same way I'm tired of bougie black natural women with THIRSTY looking hair, drier than the Sahara at midday, wearing random ass clips all over like they're actually holding something in place.  Why so many clips?  What are they trying to accomplish?  Because they are not getting anything done.
Anyhow, I jotted down a few notes Sunday night and fleshed it out after I saw a lot of Twitter discussion about natural hair this week.  So that's my two cents.  From the POV of a dude with a lot of hair.
And.
Just for getting-to-know-me purposes, I'm gonna list the reasons why I do indeed flat iron my hair:
Straight hair for me personally is SUCH a timesaver.  I might spend two hours from wash to straight one time…but then I don't have to worry about it for weeks.  When my hair is curly, I have to wash it or wet it every other day and de-dread my hair.  If I don't, it turns into a mess of mini-dreads and matted curls and I'd cease to able to comb through it in less than a week.
I like hats.  And my big-ass fro is not gonna fit under any of them.  I live in NYC and it gets cold.  Sometimes, I might wanna put on a fly hat before I go out.  I can't do that with curly hair.  Not only is it too big, but when it's curly, I let it air-dry and who's trynna walk around in 15 degree weather with a wet, uncovered head?
I really love dudes with long hair, ever since I was tiny.  There is still a grunge rocker from Seattle deep inside me and I genuinely just like the way most of my wardrobe looks with my hair long and straight.  I'm sorry if that = self hatred to you, but that is the aesthetic that I'm going for most of the time: Gay Rock Star.
I like looking different.  One day I might have a fro.  The next I might have it up in a big Janelle Monae bouffant.  The next it might be bone straight and down my back.  The next, I might pull it back with a Prada bang.  I'm not very photogenic so I'm not a fan of self-pics, but to demonstrate just how versatile African-American hair can be, here are some thumbnails you are free to make larger if the spirit moves you to do so.
Fro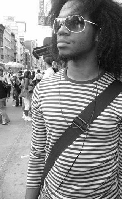 Up-Fro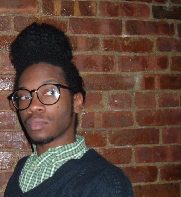 Pulled Back

Wavy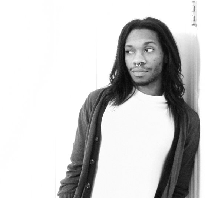 Straight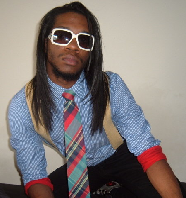 and just for shits and giggles….what I looked like with no hair…



4:09 pm • 18 May 2011 • &nbsp Let's talk about what you think.
| me| hair| black hair| rambling wednesdays| natural hair|