Need to get your toddler drunk? Take it to Applebee's.
Detroit is doing a lot these days.  Crime, unemployment, population desertion, etc.  And now we can add Liquoring Up Babies to the list.
A 15-month-old was rushed to the hospital in a Detroit suburb after he was served alcohol instead of apple juice in his sippy cup.

Taylor Dill-Reese told local television station WJBK that her son was happily sipping what he thought was juice when he began acting rather strange.

"He was saying hi and bye to the walls," she said. "He eventually laid his head down on the table and we thought maybe he was just sleepy."

But when she tasted the apple juice, it turned out to have very low fruit content – it was actually a margarita, she claimed. (cont.)
OK, so, I'm sad the baby got drunk and all.  That poor mom must be FURIOUS.  But saying hi and bye to the walls????  HAHAHAHAHAHAHAHAHAHAHAHAH!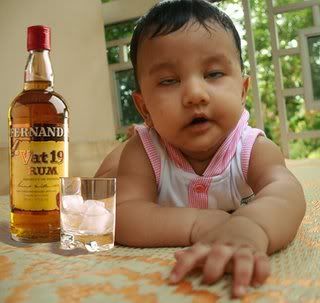 Oh man.  Let's take a moment to imagine this chubby-faced baby, all slizzard up, at the table, trying to greet the walls.  Most of my readers are 20somethings…I know you know that level of slizzard where you are having conversations with things that can neither answer nor move.  
Yes.  Best news story ever.  Good job NY Daily News.


1:18 pm • 11 April 2011 • &nbsp Let's talk about what you think.
| babies| cute| booze| applebees| news| detroit|